You can make cider here?
In answer to one of our most frequently received questions, yes, you really can make alcohol in Utah. Our immediate neighbors may not be our customers, but they are our enthusiastic supporters in our efforts to revitalize and create a market for fruit agriculture in this often-overlooked corner of redrock country.
Pioneers planted their fruit orchards in the area over 100 years ago, feeding families and livestock, and a few farmers likely generated a little cash on the side with a more "portable" liquid crop. Times were hard, the roads were bad and it was a two day wagon ride to take fruit to market. No matter the struggle to provide, taxes always came due. We speculate; we don't judge.
And we never forget that on Dec. 3, 1933, Utah became the 36th state to approve what became the 21st Amendment to the Constitution, thus casting the deciding vote to bring about repeal of prohibition. Headlines around the country celebrated the return of legalized alcohol to the United States, thanks to Utah's voters.
About Etta
Even her name is a mystery. No one really knew her name—the Pinkerton detective agency settled on Etta Place for their wanted posters. History tells us this: she was one of only five women permitted at Butch Cassidy's hideout east of Torrey.  How she struck up with the Robbers Roost gang is unknown, but she paired up with Sundance Kid and went with them both when they fled to South America. 
The private investigators traced her and Sundance as they traveled back to the United States to visit family, experience Coney Island and even the 1904 St. Louis World Fair. The story goes that she was happiest on the ranch that she, Butch and Sundance operated in Argentina for a short time, but the Pinkertons' pursuit was unrelenting and they fled again. Tired of life on the lam, she asked Sundance to bring her back to the States in 1906. He left her in San Francisco, returning to Bolivia alone.
Just about the time of the 1906 earthquake, Etta was alone, 28 years old and still a striking woman with a price on her head. Did she stay in California? Make her way back to Texas, where some say she grew up? We like to think she just might have come back to Torrey, a long way from prying eyes, where her old friends had gotten along so well with the local populace and no one held it against folks to make a little alcohol to keep the taxman at bay.
Outlaw, world traveler, rancher: Etta Place had lived rough and tasted the finer things in life. In our sometimes quiet corner of the west, her spirit lives on in our place, Etta Place Cider.
Ciderbison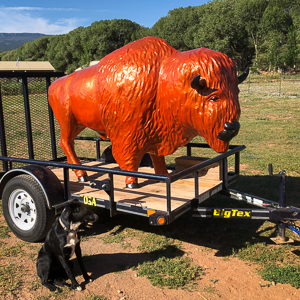 Towering over the Colorado Plateau between the Robbers Roost and Torrey, the Henry Mountains are an isolated mountain oasis. So in 1941, when the Utah state wildlife officials decided to transplant a herd of 18 Yellowstone bison to the Robbers Roost canyon about 50 miles away, why was anyone surprised at what happened next?
The herd disappeared, wandering over the desert rangeland for years. Some assumed they had died out. Somehow, the bison crossed the Dirty Devil River, and twenty years later had established themselves in the Henrys. Today they number up to 400 animals and remain one of only four genetically pure bison herds in America.
Surviving a fifty mile migration across a thirsty desert to thrive in the right place? That sounds like a lot of the travelers we meet every day at Etta Place Cider, and our #ciderbison will be there to greet them at the gate.
Ann and Robert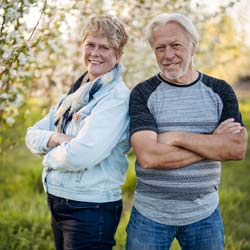 In 2009, we found our place, in of all places, Torrey, Utah. "We can't move there," Ann said. "It's not on Highway 89!" Nor was it anywhere near the MarcLab. We sold our home, rented an apartment in Salt Lake City, built the Torrey house, dug a garden, and started planting apple trees.
We called the homestead land "Stray Arrow Ranch" because that arrow we launched a decade ago has gone in wildly new directions from where we ever imagined. Someone gave us our first chickens, then we added goats, geese, ducks and turkeys, finally dogs. Over time, we left the apartment behind, moved our city cats, and bought lots of tools, not necessarily in that order.
Today, we live in a wonderland of fascinating geology, rich cultural heritage and dark, dark night skies. We may not have roots five generations deep, but we love our small town. It is an honor, sometimes a challenge and always a privilege to be here, building upon the traditions of those early fruit-growing pioneers of southern Utah.
When we can steal away from the ranch or the ciderworks, we head out to explore: Capitol Reef National Park, Boulder Mountain and Thousand Lake Mountain are practically our backyard. Bryce Canyon, Arches and Zion National Parks are only a couple hours' drive away. The #ciderdogs love to hike and camp in the millions of acres of dog-friendly public lands outside the Mighty Five national parks.
We can't wait to meet you in the Etta Place Cider tasting room and hear about your adventures in discovering the secrets of southern Utah and heritage hard cider. Torrey isn't a straight shot from anywhere, but when you find it, we hope you can visit and savor life for a bit where the arrow has hit its mark on our hearts.